erosion/implosion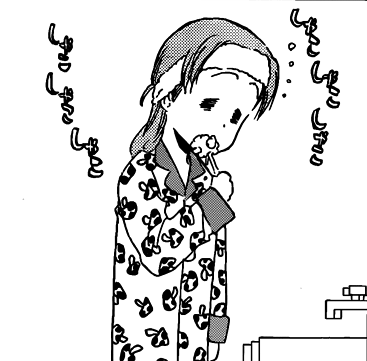 How is she so fucking cute? Even somewhat pixellated.

On a more important note, since she is obviously still inside Yukio's console, and we later see her out of the pyjamas and back in her street clothes, so basically she's getting naked and carrying out various matters of private business right under Yukio's watchful eye.

OMG CEILING CAT YUKIO IS WATCHING YOU MASTURBATE URINATE.

Kubo is such a pervert.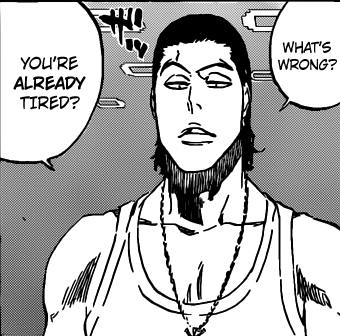 ... I'll just, uh. Leave this here. >.> Stupid Ginjou and his stupid sexy arms.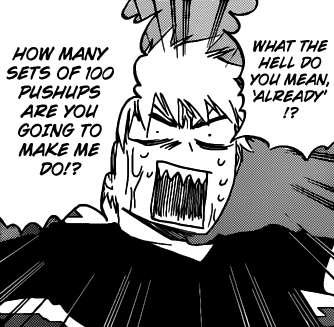 ICHIGO'S FUNNY FAAACE ♥♥♥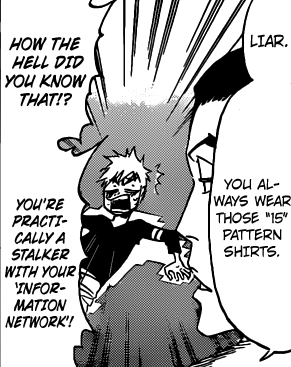 Ginjou, seriously, Ichigo's right; you are such a stalker. Just confess your wholly unplatonic feelings already and get in line, ok.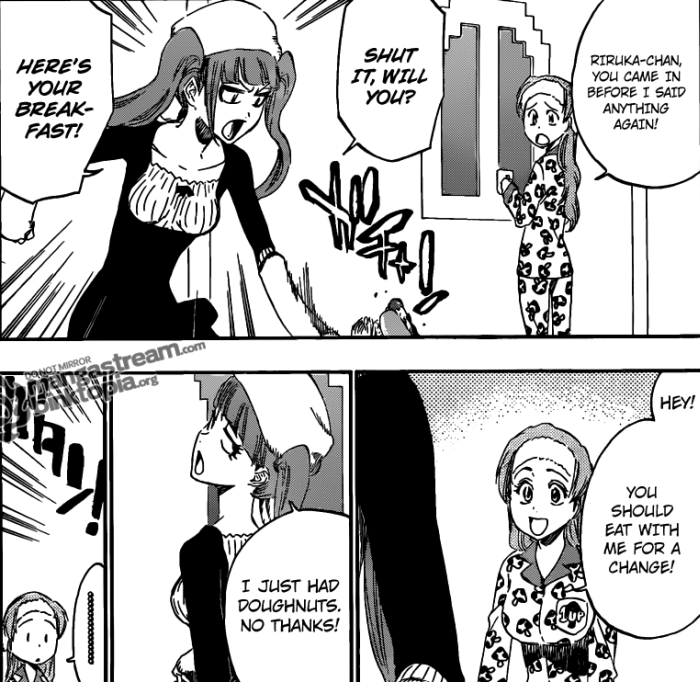 Meanwhile, in Inoue's Pixellated Den of No Privacy, Riruka is valiantly resisting temptation and delivering breakfast while trying her hardest not to look at Inoue, who somewhat obliviously does not realise how her states of undress affect her new friend.

GOOD GOD THE 1UP ON INOUE'S CHEST POCKET. IS THERE NO LIMIT TO HOW CUTE SHE CAN GET.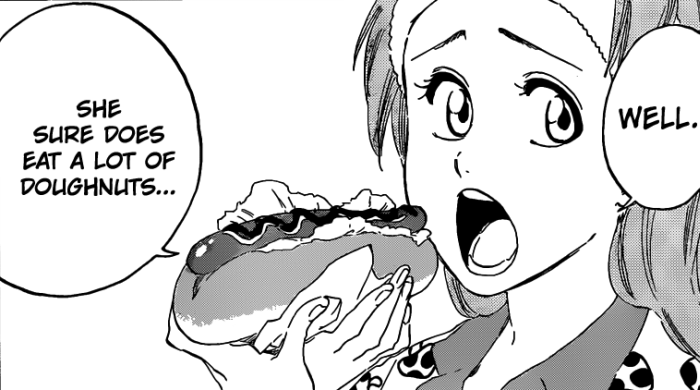 NO, APPARENTLY THERE IS NO LIMIT, AS ABOVE.

ALSO OH SURE, ABSOLUTELY NO SUBTEXT IN THIS AT ALL. KUBO YOU FIEND.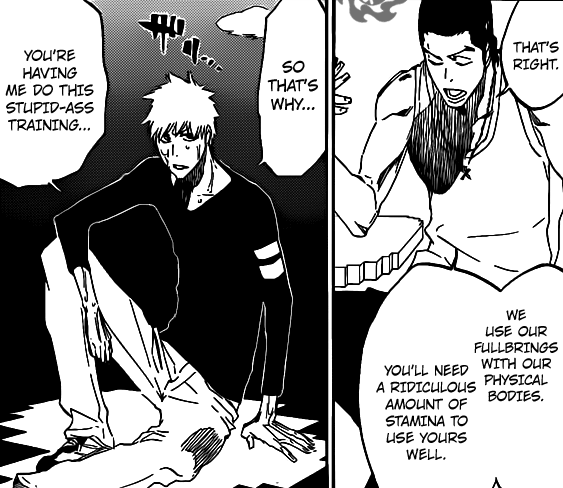 Dear Kinney. 1500 push-ups? That would kill most people. Ichigo's going to have to start charging double for his school club membership services when all this is done with...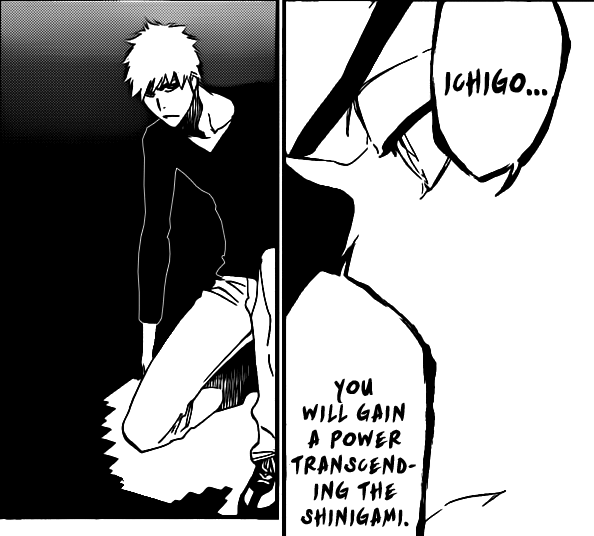 Jeez, you'd think Ginjou didn't get the memo about how Ichigo is pretty much the most freakin powerful thing there is in this manga. He had to go and make him even more powerful. Not that I'm complaining. >.> ICHIGO IS FUCKING AWESOME OKAY.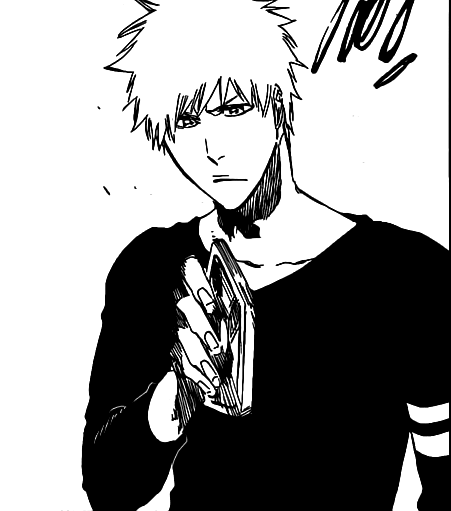 Hmm, though the look in his eyes seems to indicate he may think otherwise...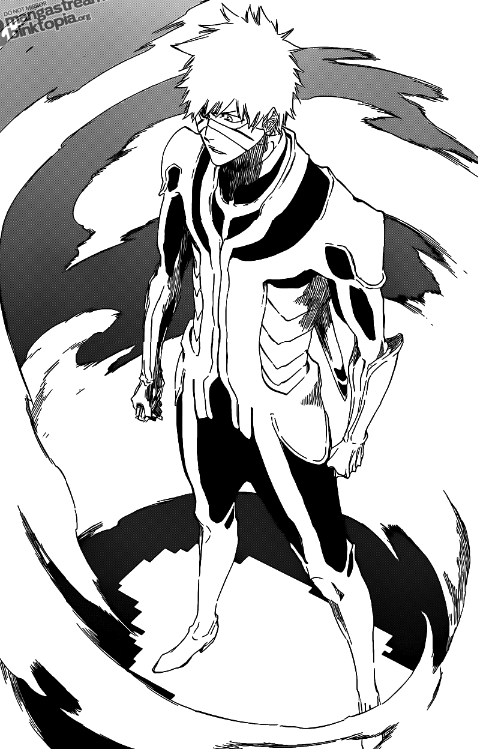 Is it just me or does that look like sort of like a Resurrección? :S




*FLAPS HANDS* THAT WHOLE PAGE IS LIKE. I DIED OF AWESOME. TWICE.

Also, Ginjou remarks that it reminds him of someone else -- someone we know? The only other known character who wears his sword on the back (besides un-bankai-d!Ichigo) is Hitsugaya AFAIK. Could it be Tsukishima he's referring to? Am too lazy to go back and look. :">





I'm just gonna go ahead and headcanon that as Ichigo's "I miss Zangetsu" face.

...

What? He didn't SAY what the fullbring's name is going to be, so. >.>

And I miss Zangetsu, goddamnit.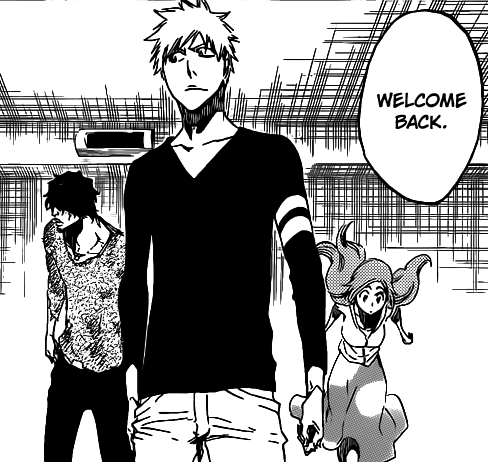 Aw, I love this panel. ♥♥♥ The only thing wrong with it is that there is no Ishida. :3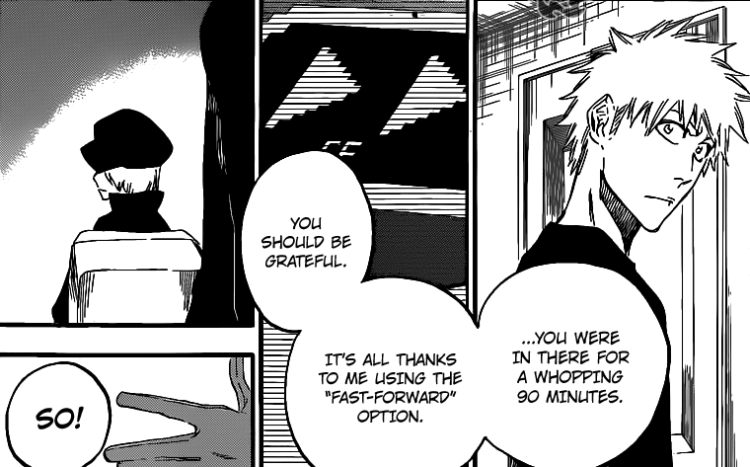 Ah, so that is what the FF was for! That clears it up. Sort of. Because logically, shouldn't he have been using a -- IDK -- slow down playback button since the time inside the console was slowed down? Or do Japanese electronics work differently? OH WELL IT'S OVER NOW *handwaves*

Also, since we don't know how much time has passed (yet -- though I'm guessing a lot longer than 90 minutes), let me just point out that those wishing to create fanworks featuring any permutation of pairings involving Ichigo, Inoue, Yukio, Riruka, Ginjou, and Chad now have pretty much carte fucking blanche. I just wish Ishida had been invited to this particular party. Though of course Ginjou would never let Ichigo's boyfriend interfere.





Raise your hand if at this point you totally thought, "Owner of Mysterious Foot of Doom".

\o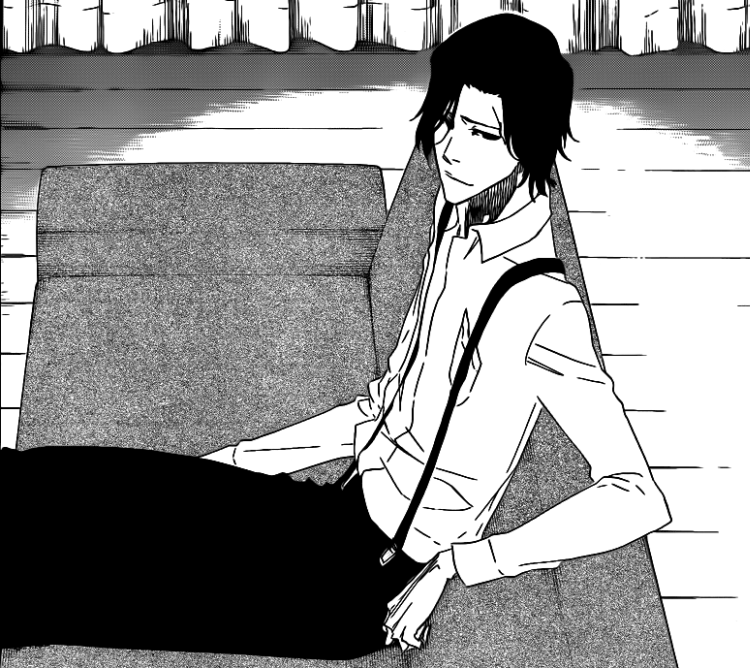 OH HEY IT'S COUSIN TSUKISHIMA, RIGHT THE FUCK ON-- oh. Wait.

Well, crap.

KUBO IS SO MEAN.